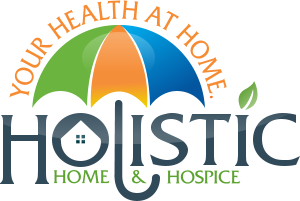 The Holistic Home Health Care, Inc. logo, created by our owner himself, symbolizes our approach to health care.
The company name Holistic Home Health Care, Inc. represents much more than what meets the eye. Founded by registered nurses, our owners took all they had learned and observed from their time working in health care and formed their own company. The difference was, their company was not only built to serve the client; but to serve the whole client. the name 'Holistic' comes from our foundational approach to viewing our clients as a whole entity, not simply a condition. Our Holistic approach envelops all that we do to provide our clients with the most comprehensive service available.
Our logo is comprised of an umbrella, to embody the encompassing nature of our company. Under Holistic's care- you will always be covered. Our offered services span a breadth wide enough to encompass all individuals and all their unique needs. Our cares involve an individuals physicians and other medical cares to ensure that our clients are covered from all sides. Our structure is also built to serve, we accept numerous forms of payment to ensure that your wealth does not determine your worth.
The colors on the umbrella represent diversity. Wisconsin is a beautiful state with a rich history and a celebrated culture. Your community is our community, and Holistic works to be a service to all of its citizens. Our companies workforce diversity allows us to best serve Wisconsin and all of its citizens. Our company also embraces the diverse community we live in by being a EEO employer, volunteering, and giving back to community that has given so much to us.
Our 'O' in the shape of a building represents that wherever a client calls home, we can serve them. Our company can provide services in any type of building anywhere in Wisconsin. There is no accommodation that our agency will not attempt to best serve you.
When the facets of the Holistic Home Health Care, Inc. logo are pieced back together, they form a uniting entity that accurately reflects our philosophy. Through community partnership, continuing education, and a core of diversity; Holistic Home Health Care, Inc. is built to serve.